Busan private full day tour price
US $ 320.00
※ Included
Minivan rental for 8 hours ( 9a.m to 5.30 .p.m)
Parking fee, Tollfee, Driver lunch, petrol, insurance.
Pick-up and drop-off within Busan city.
Number of person: 3~ 10 person
※ The tour course will guide you through the course you want.
※ you can do it in a day tour or two days tour.
---
※ colourful Busan Tour ※
See the best of Busan city tour on a full day sightseeing tour With a driving Guide . Busan private tour ! Which means you can Choose your itinerary trip A Famous spot in Busan you must see on this Haedong yonggung temple , Street food and other sights!
- songdo sea shore(air cruise)
- Gukje Market Gam cheon culture village
- Yeong dusan park, Nam po dong
- Oryukdo sky walk
- Haedong yonggung temple
- Tae jong dae , jalgachi Market
※ Include ※
- Minivan rental for 8hours (9a.m to 5,30pm)
- Parking fee. Petrol. Insurance driver meal
- Pickup and drop off within busan city
- Number of person: 3~10 pax
- Basic English speaking driver (can speaking Chinese)
. The tour course will guide you through the course you want
. you can do it in a day tour or two days tour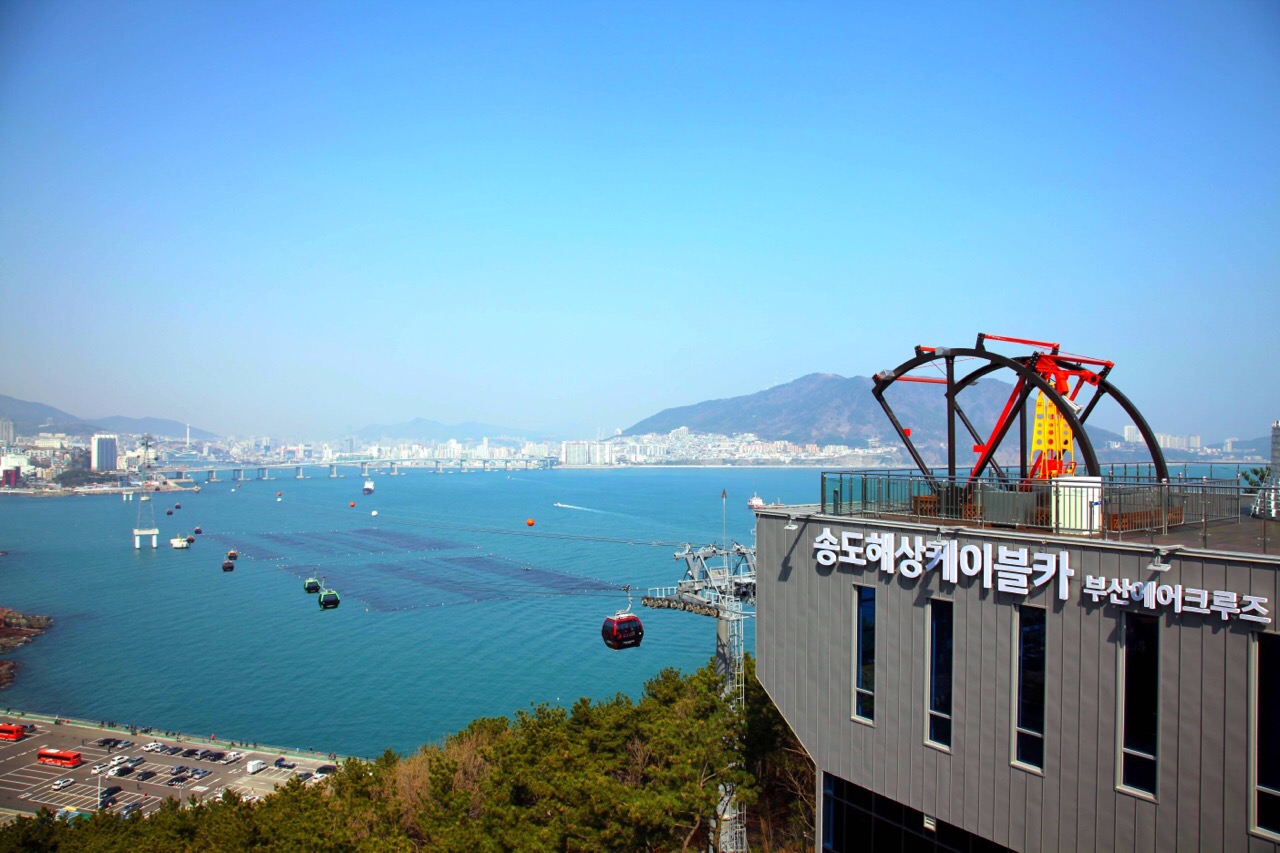 Songdo Marine Cable Car
Originally launched in 1964 as Korea's first cable car, the Songdo Beach attraction reopened in 2017, measuring a distance of 1.62km – four times what it was before its 1988 closure. There are 39 cars – 13 of them with glass floors – that traverse emerald waters, offering for surreal views of the hillsides and cliffs. The journey starts from a station next to Songnim Park on Songdo's east side, ending at an observatory station at Amnam Park in the west.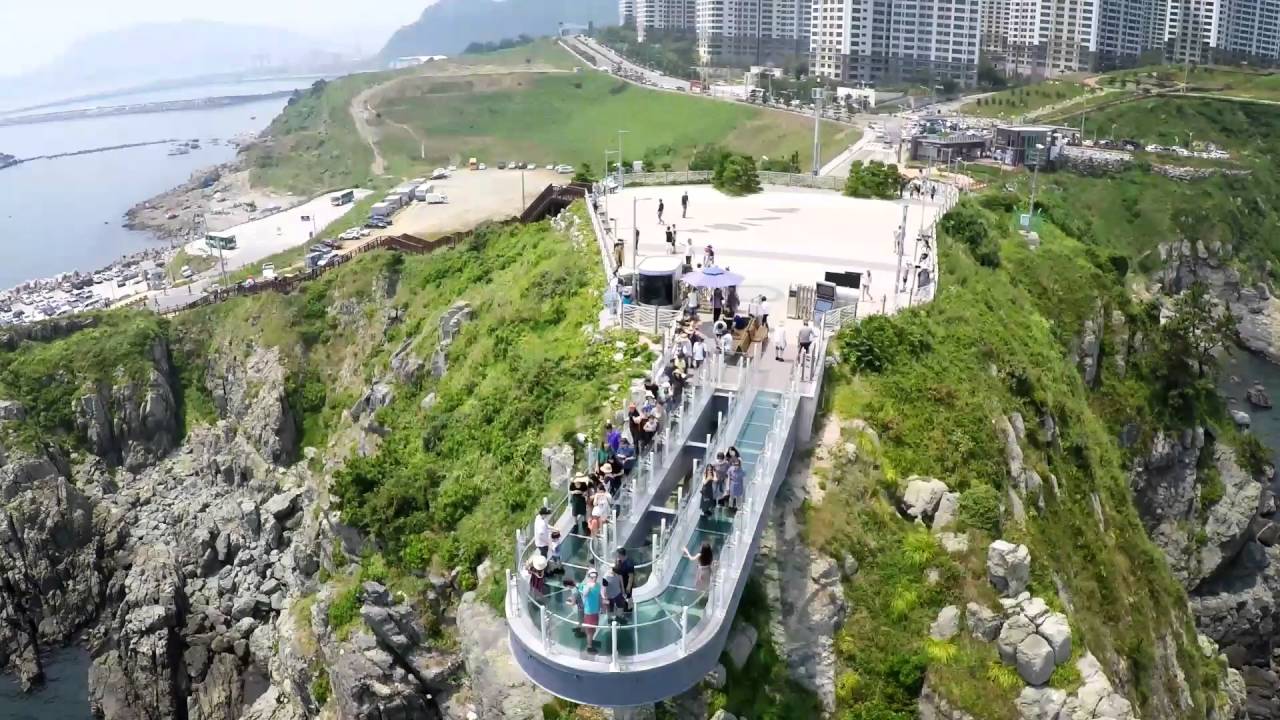 Third Stop Oryukdo Skywalk
Take an hour to enjoy an amazing view and what a great photoshoot experience. This construction of Oryukdo Skywalk is actually fairly new, it finished in 2012 and its theme is "Walking over the sky." People all over come to take fantastic pictures and try looking down through the transparent floor, it may be too scary for some!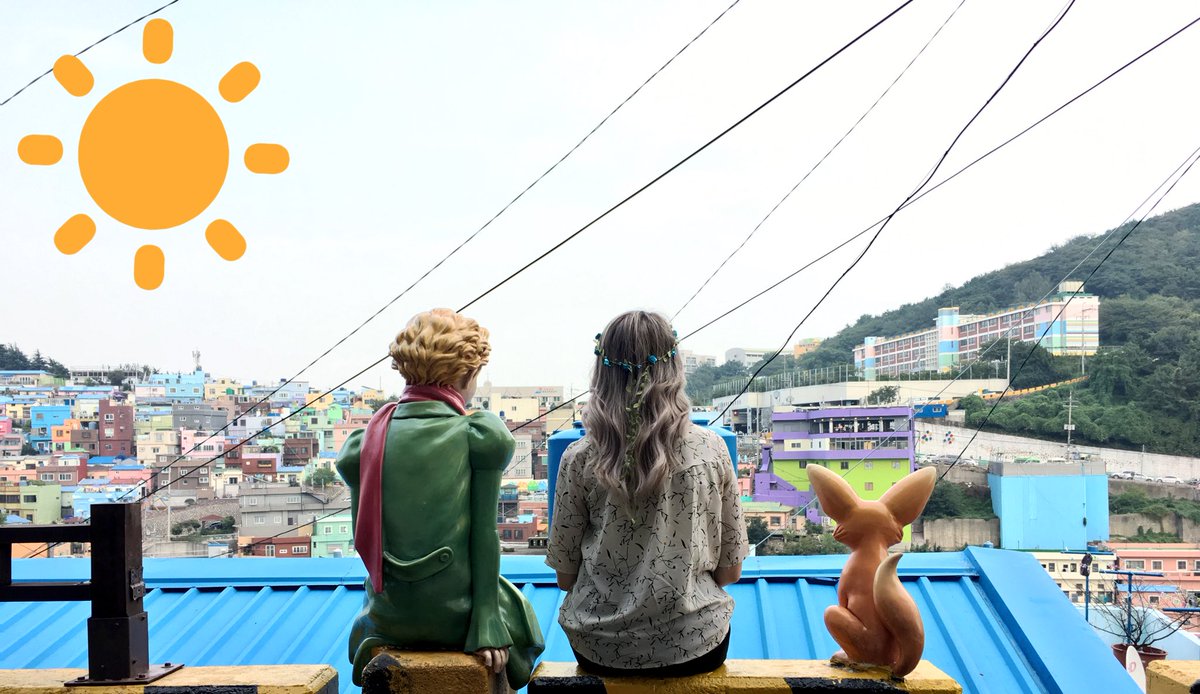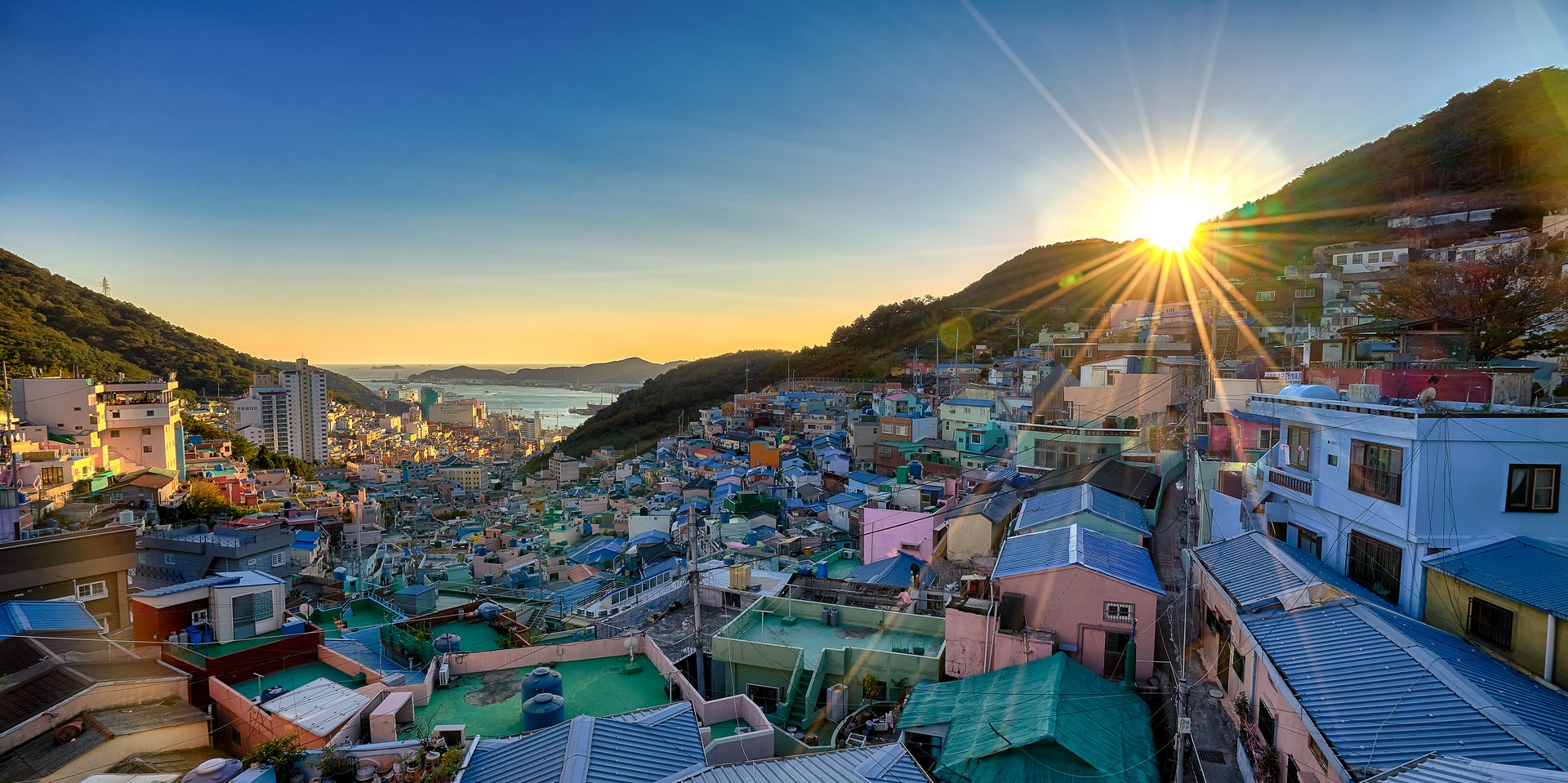 Gamcheon Culture Village (Hangul: 감천문화마을; Hanja: 甘川文化마을) is a town of Gamcheon-dong, Saha District, Busan, South Korea. The area is known for its steep streets, twisting alleys, and brightly painted houses, which have been restored and enhanced in recent years to attract tourism. In order for the village to be reborn as a cultural hub, the Saha District received funding from various government offices for the purpose of urban regeneration. After painting its walls with a fresh coat of paint and placing works of arts throughout the area, the village was given its new name. The renovation efforts reached their peak with the success of the "Empty House Residency Preservation Project." The village has been reborn as Busan's most colorful and artistic spot.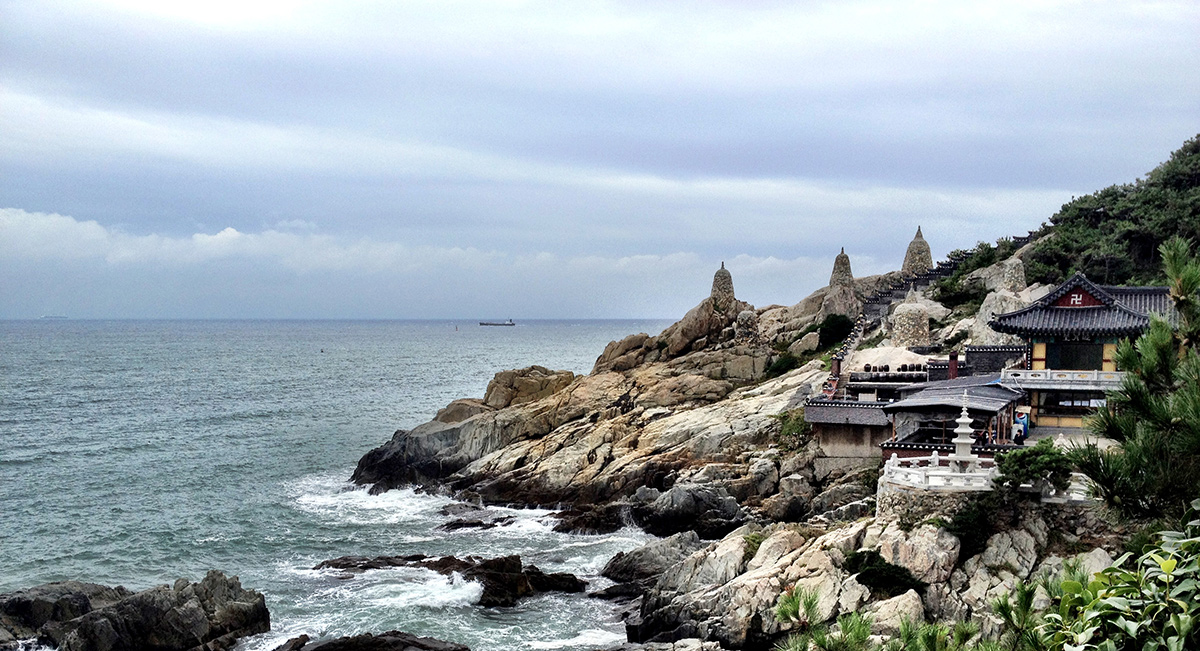 Haedong Yonggung Temple (Hangul: 해동 용궁사, Hanja :海東龍宮寺) is a Buddhist temple in Gijang-gun, Busan, South Korea.[1] The temple was built in 1376 by the teacher known as Naong during the Goryeo Dynasty, and was originally known as Bomun Temple (보문사). It was destroyed during the Japanese invasions of Korea (1592–98) but was rebuilt in the 1930s, and was renamed Haedong Yonggung Temple in 1974. The temple complex is a large one and one of few in Korea to be set on the seaside.[2] As such, combined with its proximity to Haeundae Beach and the east side of Busan, the temple is popular with sightseers, particularly during Buddha's Birthday celebrations when the complex is decorated with paper lanterns.
Taejongdae is a natural park of Busan, South Korea with magnificent cliffs facing the open sea on the southernmost tip of island of Yeongdo-gu. It is a representative visitor attraction of Busan where has dense evergreen trees and several facilities for tourists such as an observatory, an amusement park, a light house, a cruise ship terminal. It is said that its name to have taken from King Taejong Muyeol (604 - 661), the 29th king of Silla Kingdom who liked to practice archery the place after the unification of the Three Kingdoms of Korea. Taejongdae is designated as the 28 Busan monument, along with Oryukdo Island.
Yongdusan Park is a park located in Jung-gu, Busan, South Korea. The 120-meter-high Busan Tower is located here. Yongdu means "dragon's head" and "san" means "mountain". The name is an allusion to the similarity of the mountain park, which is said to resemble a dragon's head. The park occupies an area of 69,000 square meters. It has 70 different species of trees growing in it.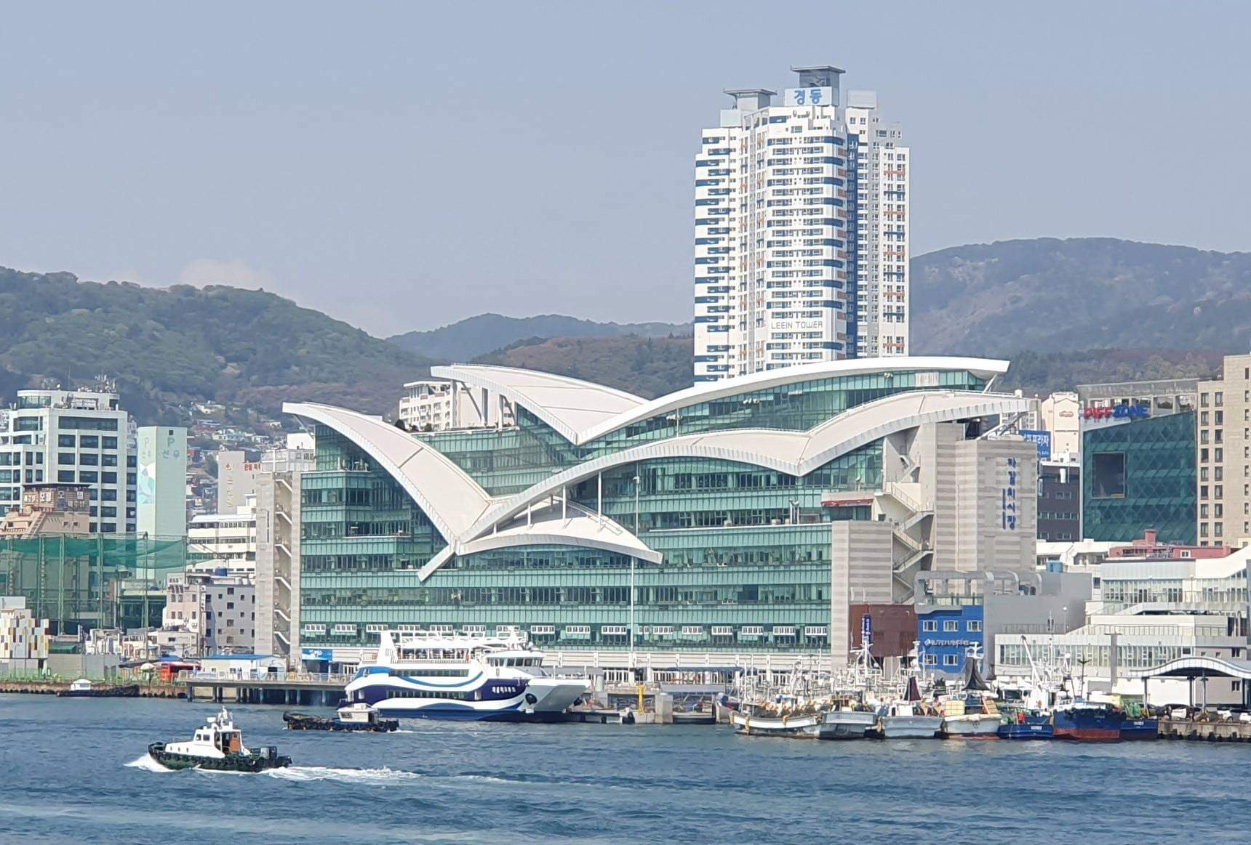 Jagalchi Fish Market is a fish market in the neighborhood of Nampo-dong in Jung-gu, and Chungmu-dong, Seo-gu, Busan, South Korea. The market is located on the edge of Nampo Port (남포항), Busan. The name is said to have originated from jagal (자갈 gravel in Korean) because the market used to be surrounded by gravel.[2] This is one of the ten landmarks of Busan, so many tourists visit there to shop.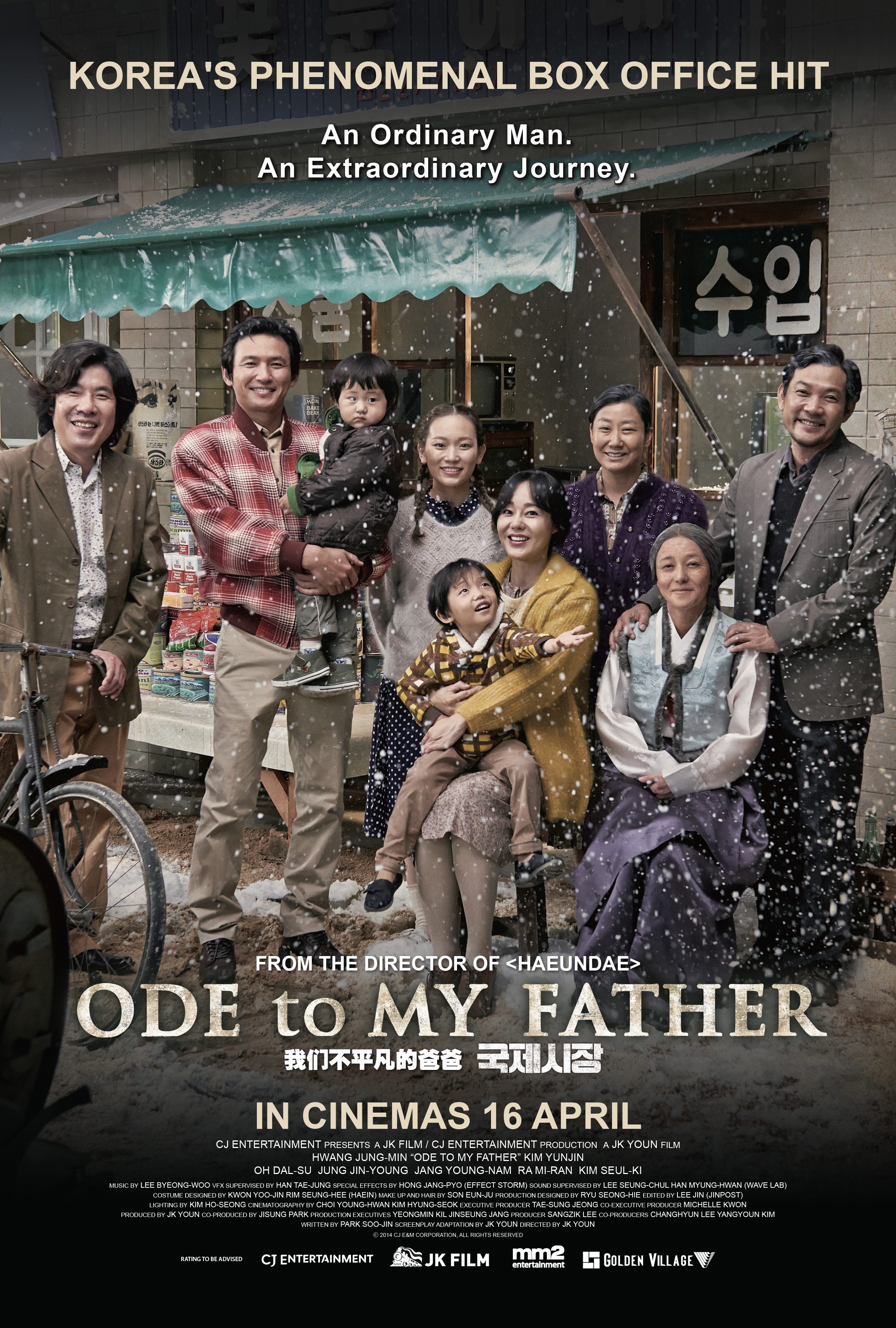 Ode to My Father (Hangul: 국제시장; RR: Gukjesijang; transl. "Gukje (International) Market") is a 2014 South Korean drama film directed by Yoon Je-kyoon. Starring Hwang Jung-min and Yunjin Kim, it depicts modern Korean history from the 1950s to the present day through the life of an ordinary man, as he experiences events such as the Hungnam Evacuation of 1950 during the Korean War, the government's decision to dispatch nurses and miners to West Germany in the 1960s, and the Vietnam War.
It is currently the fourth highest-grossing film in the history of Korean cinema, with 14.2 million tickets sold